25 août 2018
Bonjour à toutes et tous, Hi Everyone.
I'm back from holidays, I had a lovely time with my family at seaside first, and next in Britanny! During my walks, I took some tiny plants, and I'm very happy to have used them (quickly for once lol) on this make. I started to create my background with the goal to evaluate some techniques that I will be able to teach to my students later, but then, just the magic happened... you know what I mean.
I used some oldies but goldies rubber stamps and a stencil by CraftyIndividuals (CI-437, CI-494, CI-253), these are always spectacular, some new and wonderful Seth Apter's Baked Texture by Emerald Creek (Chunky Rust, Ancient amber, Vintage Beexwax), and many other products and layers to create this mixed media panel in a vintage style, not my usual one but I really enjoyed making it!!
Je suis de retour de vacances... Des vacances assez courtes, mais j'en ai bien profité quand même ! Me voilà prête à redémarrer, et ce sera sur des chapeaux de roues !! Le mois de Septembre s'annonce chargé... plusieurs manifestations auxquelles je vais prendre part, la création de l'association HerMMicraft qui je l'espère suscitera de l'intérêt, et le salon Id Créatives de Rennes fin septembre.
Les filles qui me suivent en atelier, je vous invite à consulter l'agenda de la rentrée des ateliers et toutes les dates à retenir dans CE POST, que je mettrai à jour si besoin.
Pour aujourd'hui, je partage ici simplement un panneau que je me suis amusée à créer, pour évaluer des techniques que je pense pouvoir proposer en cours. Il s'agit d'une petite création à base de papier aquarelle, d'encres Distress, gel médium, peintures acryliques métalliques et irisées, pochoir bordure et tampons Crafty Individuals (CI-437, CI-494, CI-253), qu'on peut exploiter de tant de façons différentes. J'ai aussi joué avec les nouvelles poudres à embosser Emerald Creek de Seth Apter, les Baked Texture (ici Chunky Rust, Ancient amber, vintage beexwax), elles sont très belles et je ne m'en lasse pas !!
Quelques embellissements et images Tim Holtz pour finir, des petites fleurs et de la mousse naturelle prise lors d'une balade dans les Monts d'Arrée sur le Roc'h Trevezel (l'un des 2 points culminants de la Bretagne !) et voici le résultat.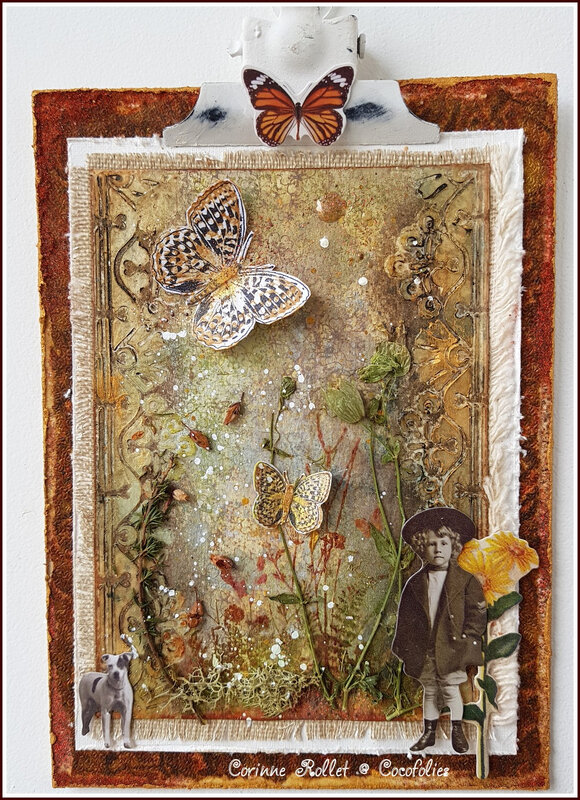 Vous pouvez voir sur l'image en gros-plan ci-dessous l'effet du Baked Texture 'beeswax', sur lequel j'ai versé quelques grains de 'Chunky rust'... et peut-être aussi d' 'Ancient Amber' qui restaient sur la table ! Le magnifique papillon est de Crafty Individuals, celui-ci je l'adore !!
Look at the pic below... by mixing a big grain of 'vintage Beeswax' with tiny grains of other powders ('Chunky rust' here, maybe also 'Ancient Amber' lying on my table!), you get this fabulous effect. And the wonderful layered butterfly is by Crafty Individuals, it is made of two stamps (negative and positive butterfly). I adore this one!!
Pour faire mon cadre, j'ai joué avec les trois poudres, seules ou en mélange à certains endroits. Et j'ai embossé à plusieurs reprises, pour obtenir une belle texture, dans des couleurs qui me plaisaient bien.
I played with all my three Baked Texture EP to decorate the edges of my support, either individually at some parts, or in mixture. and in layers of course, for more coverage, texture and fun!! :)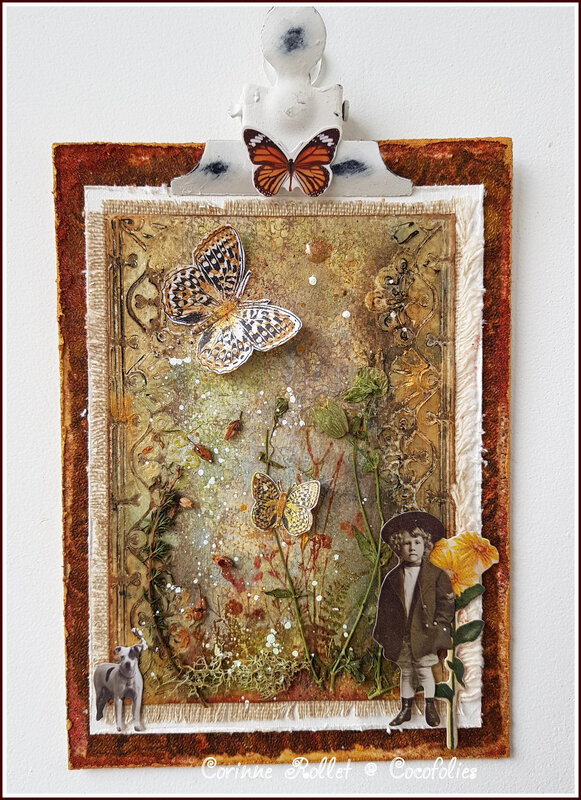 Voilà. Merci de votre visite et de vos commentaires toujours si agréables à découvrir.
Je vous souhaite une belle journée, et une bonne reprise éventuelle !!
A bientôt
Bises
I'm entering this make in the PaperArtsy Topic 14 challenge : Baked Texture
in the Frilly and Funkie challenge: Back to nature
and also in Craft Stamper Take It Make It challenge : Anything Goes.
04/08/18: Thrilled to be a winner at the Frilly and Funkie challenge ^^
Hope you had all a good Summer, Thanks much for looking! hugs xx
Coco(folies)
Commentaires sur Un panneau vintage à accrocher / Vintage hanging panel