02 août 2017
Bonjour, Hi everyone.
Nous voici déjà en Août, je ne vois pas le temps passer... Il file trop vite.
Je vous montre rapidement la fin de mes créations faites avec mes chers tampons CRAFTY INDIVIDUALS.
D'ailleurs c'est le moment d'aller sur le blog de Crafty Individuals, car Jean Hardy a la gentillesse d'offrir deux bons d'achat de 25 livres (env 30 euros) chacun dans sa boutique. Pour cela il suffit de suivre le blog (inscrivez vous à sa newsletter) et de laisser un commentaire à la suite de ce poste ICI. Le tirage devrait se faire en milieu de semaine, donc faites vite si vous êtes intéressée, il est peut-être encore temps !
A quick post today to share with you here my last projects made for the Hochanda shows, using absolutely beautiful CRAFTY INDIVIDUALS. stamps.
But before I start, just to share, Crafty Individuals are having a give away on their blog. Do pop over and check it out. Jean Hardy offers generously two giveaways (with gifts of 25£)! For all the detail please click here. You must be a follower and leave a message under the post.
Ma dernière réa est un large panneau monté sur carton léger, qui decorera mon entrée à Noël pour accueillir mes amis et mes élèves.
Here a large (A4 size long!) panel, it will decorate my entrance at Christmas to welcome my friends and students!
Sur cette grande et longue carte que je peux accrocher grâce au tressage que j'ai réalisé, j'ai utilisé les nouveaux papiers imprimés de chez Crafty Individuals enfin disponibles en taille A4 !! Ils sont trop beaux... Et on peut très facilement imprimer encore des motifs par dessus, la qualité est excellente. J'ai aussi placé un fond que j'ai peint et travaillé légèrement à la pate de structure appliquée sur ce pochoir, et les tampons CRAFTY INDIVIDUALS (colorés aux peintures aquarellables Cosmic shimmer) CI-332 'Snowflake Rudolf' et CI-456 'Sweet Robin Redbreast'. Je les adore ces deux là !!!
J'ai décoré l'ensemble avec des petites fleurs Prima, différentes feuilles de houx (2 découpes Sizzix), et des troncs d'arbres que j'ai peints (Marianne Design). J'ai aussi appliqué un peu de Treasure Silver et White Fire sur les étoiles.
For this first card, I made my background with Oxide Distress inks, stencil and texture paste and the lovely Crafty Individuals stamps.
The base of this large Christmas panel card is a piece of beautitul new A4-Size CI papers which I trimmed to the desired size (also rounded the corners), and also a painted and textured square of glossy paper - really a great value, I love this paper, it is perfect for all techniques!!! - on which I put this lovely Stars Dinky stencil as my starting point. I then stamped my main images I-332 'Snowflake Rudolf' and CI-456 'Sweet Robin Redbreast' on smooth watercolour paper, cut them out and then played with my Cosmic Shimmer watercolor paints to colour them.
To build the scene and assemble all my prepared elements, I used scraps of papers, some cute little Prima flowers, two different sizes holly leaves from Sizzix, and lovely trees die-cuts by Marianne Design.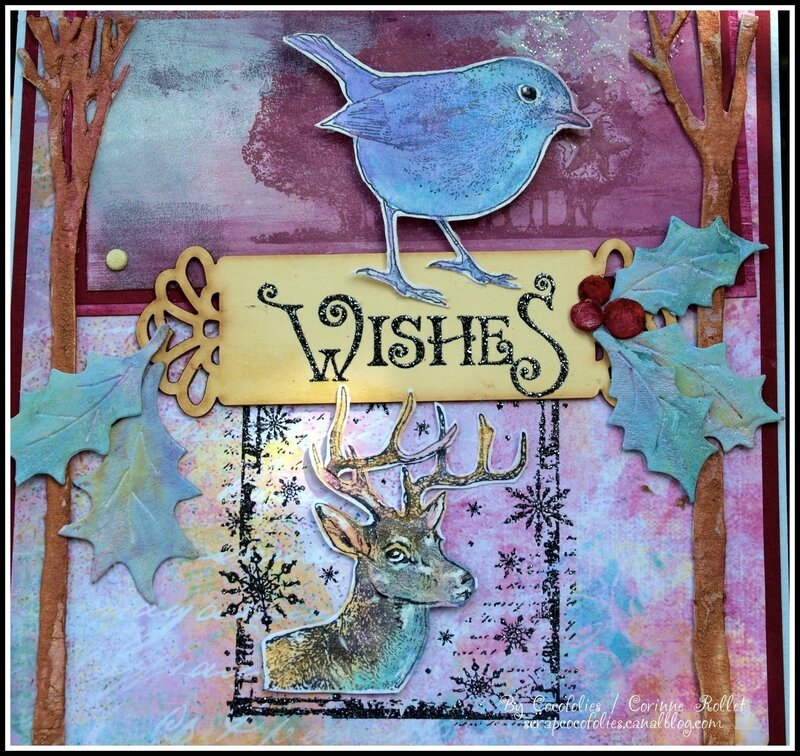 Le grand mot 'Best Wishes' vient du tampon CI-446 'Festively Cursive Words'. Je l'ai placé sur deux petite étiquettes en bois provenant aussi de la boutique de Jean.
J'espère que vous aimez, je sais qu'il est un peu tôt pour Noël mais bon, pour une fois j'aurais un peu d'avance ça va me changer !!!!!! :-)
The large word 'Best Wishes' comes from CI-446 'Festively Cursive Words'. My two little wooden tags on which I stamped the words also came from Jean's and Malcolm shop.
Je vous remontre une dernière fois l'ensemble des cartes que j'avais envoyé, il y avait aussi quelques cartes postales de scènes hivernales déjà publiées sur mon blog auparavant, donc je vous épargne les détails Lol. Ce sont des cartes que je garde en exemples pour des ateliers autour des encres Distress, j'aime beaucoup réaliser ce genre de cartes !!
Below my whole production of cards for Hochanda for the last time, a bit surprised myself by this big production! :o)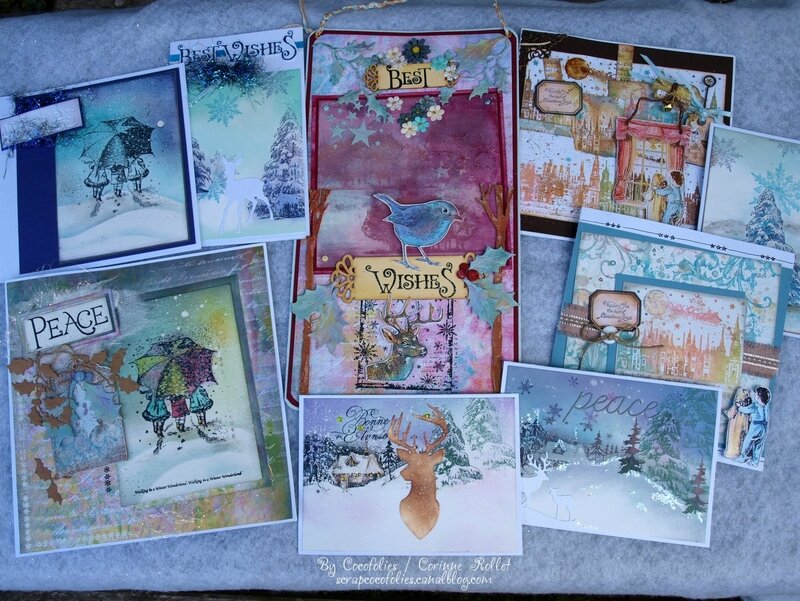 Très bonne journée à tous !
Thanks for looking, I wish you a lovely Wednesday!
Coco xx
Commentaires sur Mes dernières créations pour Hochanda / Last creations for Hochanda