13 mars 2018
Helloooo !
Un petit passage par mon blog en ce début de semaine pour vous montrer une double-page d'art journal, avec laquelle je me suis fait vraiment plaisir !! Je n'ai pas pu résister à l'appel de la création en rentrant de chez Mickey... Mais bon, malgré le mauvais temps qui n'a pas arrangé une pharyngite qui traîne encore, on a passé de chouettes moments dans les deux parcs... les filles ont adoré bien sûr !!! :D
This fortnight Darcy on Paper Artsy challenge us with whimsy characters or scenes... I just had to join in!
I was very inspired by her link on 'How to Draw & Colour Whimsical Face Folk Girl' from Marta Lapkowska (Maremi Smalart) - feeling that it was the perfect occasion to try and have fun drawing and coloring at last some whimsy faces -. I also was inspired (for the left side page) by another artist that I like much, Kandy Myny.
But above all that, I think this is my deep feeling and wish for Spring and nice weather, with colourful flowers, which inspire me to create this!
Sur le blog de Paperartsy, le challenge actuel consiste à réaliser quelque chose sur une note fantaisiste... Je ne cours plus les challenges par manque de temps, mais là j'ai fait une exception, je ne pouvais pas passer à côté ! Celles qui me suivent depuis longtemps connaissent mon goût pour les créations parfois décalées et colorées.

Je me suis inspirée d'une vidéo de Marta Lakowska (Maremi Smalart) et d'une autre artiste que j'aime bien, Kandy Myny. J'en ai profité pour m'entraîner un peu au dessin de visages... Et là oh surprise, je suis plutôt contente de moi, le résultat est assez proche et me plaît bien :) Je vous recommande cette vidéo !!
Et comme le Printemps tarde à venir et que j'avais très envie de couleurs, j'ai mis en vis-à-vis une page collage représentant une petite scène printanière... Autour du visage de cette jeune fille, j'ai encore rajouté des oiseaux réalisés à la Gel Press, à l'aide d'un pochoir Carabelle, et quelques tampons.
Page de gauche en détail / Left-side page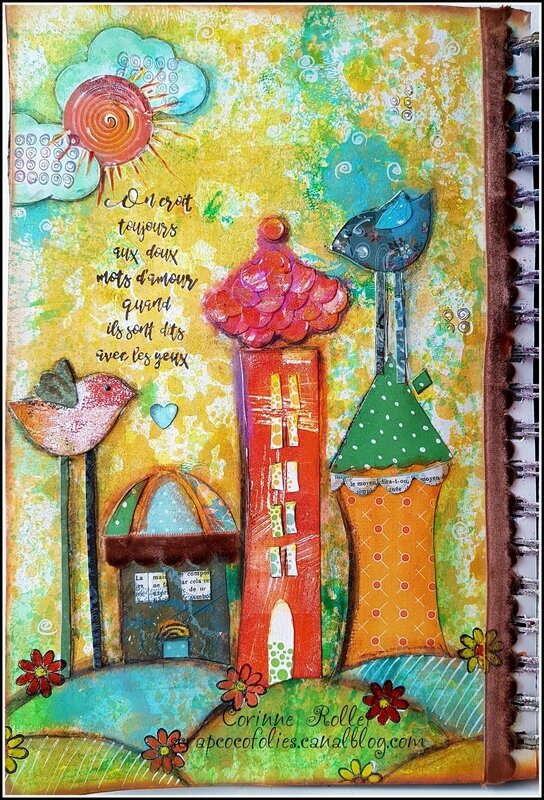 Page de droite en détail / Right-side page (following Martha's video)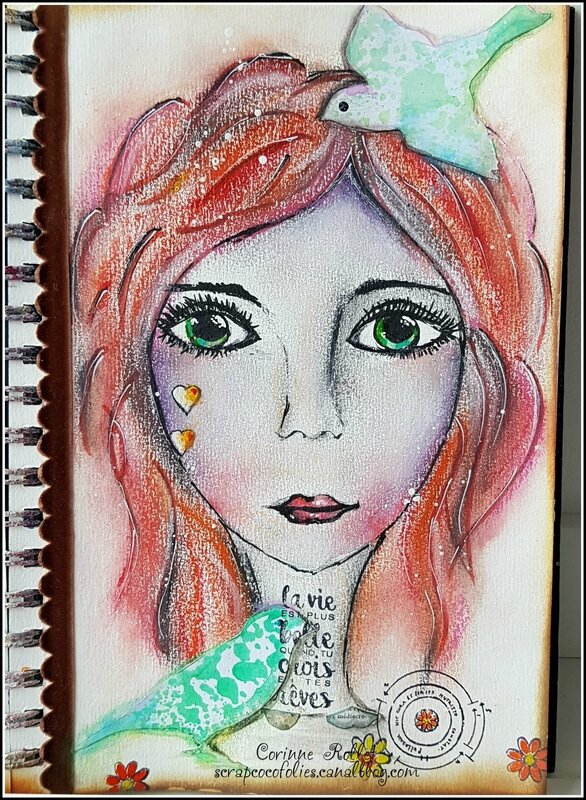 Gros-plans / Close-ups
Matériel / Supplies
Stencils/Pochoirs: 'Funky Village' (Giogiocrafts), 'Plumes et oiseaux' (Carabelle Studio), 'Blossom' (Darkmoor Door)
Stamps/Tampons : Crois en tes rêves', 'Les yeux doux' (Carabelle Studio), Eclectica3 ESN15 (Paperartsy), 'Textured Flowers' (Rubberdance stamps)
Mediums :Gelatos, peintures Liquitex, PA, crayon Carbone, pinceau à réserve, pinceau Wink of Stella, feutre Posca blanc, Gesso transparent, Gel medium, Enamel Accents/Liquid Pearls, Encres Distress, encres Archival
Chutes de papiers imprimés / scraps of handmade prints or printed papers
Voilà, j'espère que vous aimez ce style... Moi oui. J'aime bien alterner les genres et les réas je l'avoue !!
Hope you like, as I had really a lot of fun to do this!
Encore merci de vos regards et pour votre fidélité... Bonne semaine à tous, bises.
Thank you for stopping by. Have a lovely and creative week ahead! xx
~ Coco(folies) ~

I am entering the following challenges:

- PaperArtsy 'Whimsy'
- Fashionable Stamping challenges #133: 'Springtime'

Commentaires sur De l'Art journal encore... Version fun et fantaisiste ! / A whimsical spread in my Art journal