06 juin 2014
Coucou! Hi everyone!

Tout d'abord merci pour tous vos messages précédents que j'apprécie toujours autant!! Merci aussi à mes nouvelles abonnées, j'espère que vous vous aurez plaisir à venir sur mon blog, n'hésitez pas à vous faire connaître!
First a big thank you for all your lovely comments on my previous makes, always so appreciated!! And welcome to my new followers! Thanks much fo follow me, don't hesitate to leave me a comment if you have also a blog so that I could see your creative works too!
Je ne travaille pas aujourd'hui, et il fait un temps magnifique, alors je ne traîne pas trop sur le PC... Je vous montre notre échange du mois de mai sur le forum Libertyscrap, Nefertiti nous proposait de nous inspirer de superbes ATCs aux fonds aquarellés à la Distress faits par Anna-Karin (une artiste que j'adore, elle est d'ailleurs dans mes liens à droite depuis très longtemps) pour réaliser à notre tour 3 ATCs sur le thème du voyage...
For today, here are a set of ATCs I made (and received) a while ago for a swap organized by my friend Sylvie/Nefertiti. We had to do three ATCs on the theme of Travelling and take our inspiration from the wonderful Anna-Karin, playing with our Distress inks. About this artist, she makes fabulous art and is in my links for a long time... So if you don't know her yet you really should hop over on her blog!

Voici ceux que j'ai envoyés à Celia: / Here are the ones I sent: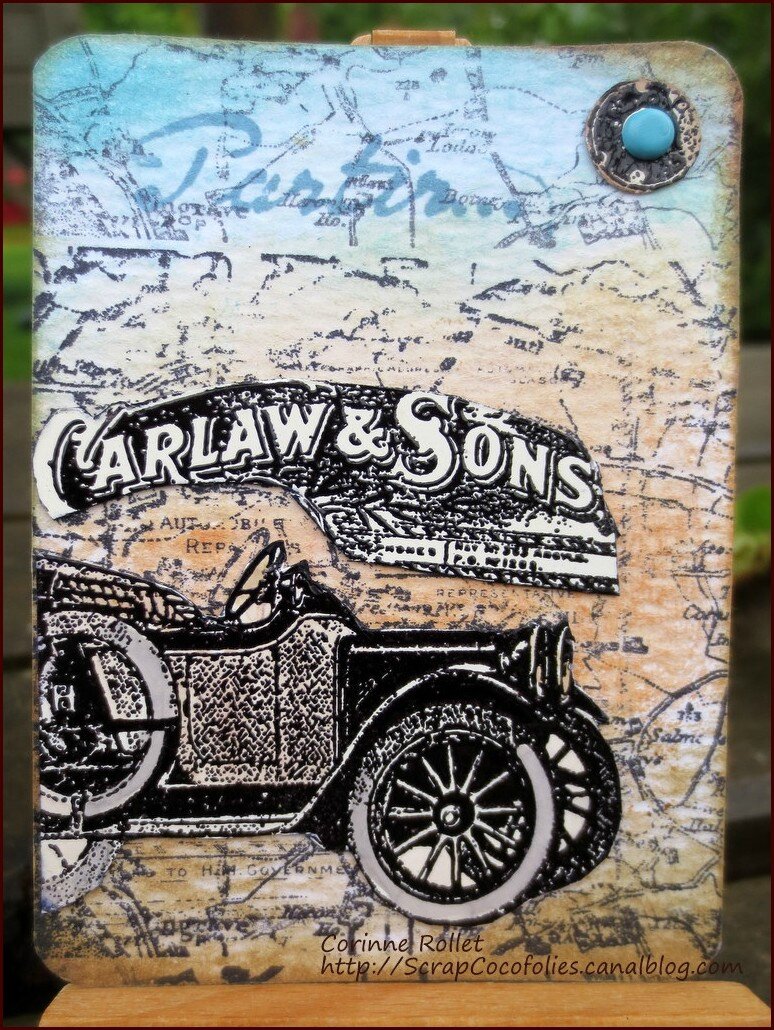 Sur ces deux ATCs j'ai utilisé mes tampons Crafty Ind. 'Chunky Vintage Car Tag' (CI-405) et 'Chunky Steam Train Tag' (CI-404) que j'aime vraiment beaucoup...
On these two first ATCs you can see the beautiful 'Chunky Vintage Car Tag' (CI-405) and 'Chunky Steam Train Tag' (CI-404) by Crafty Individuals. I really love these stamps and they are perfect for ATCs!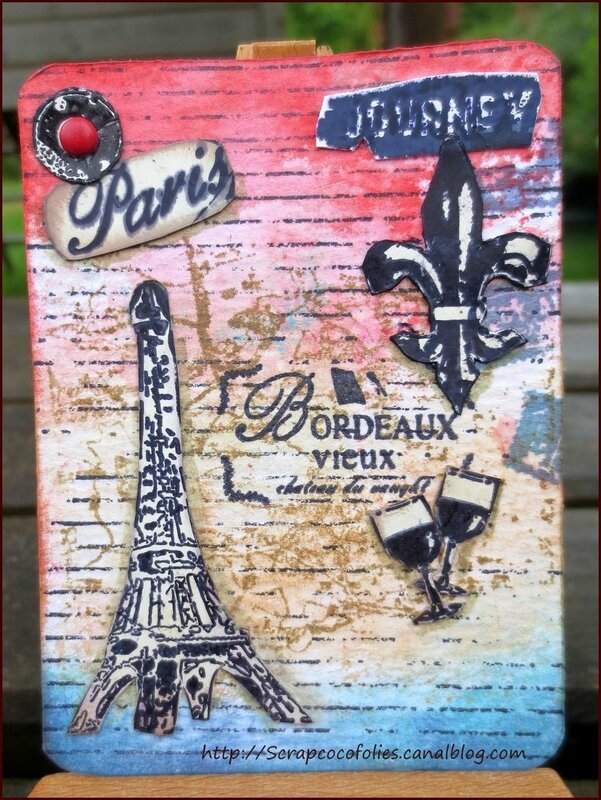 Et sur ce dernier j'ai joué avec la petite planche de tampons Clear qui m'a été offerte par mon amie Valérie.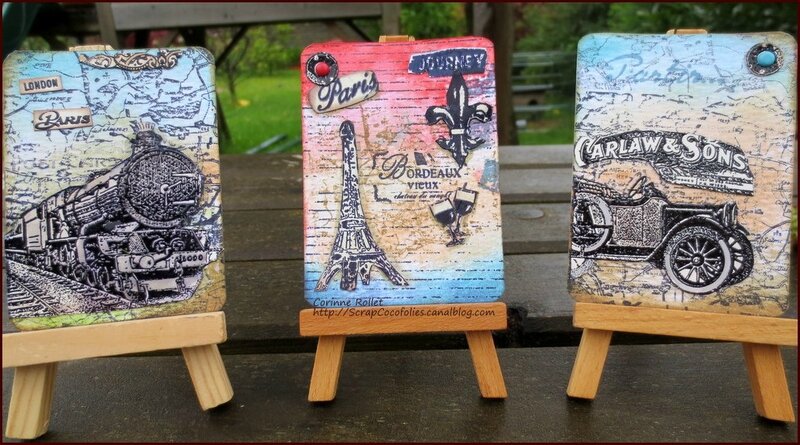 Un petit dernier pour la route... / A last one not for the swap..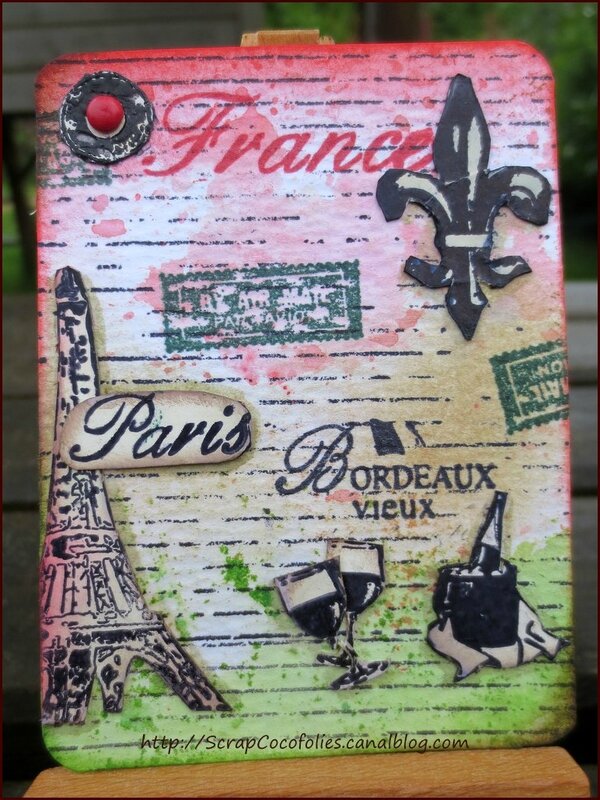 Et à présent ceux que j'ai reçus de Chouquette, ils sont magnifiques !!!
Here are the ones I received from Chouquette, really gorgeous.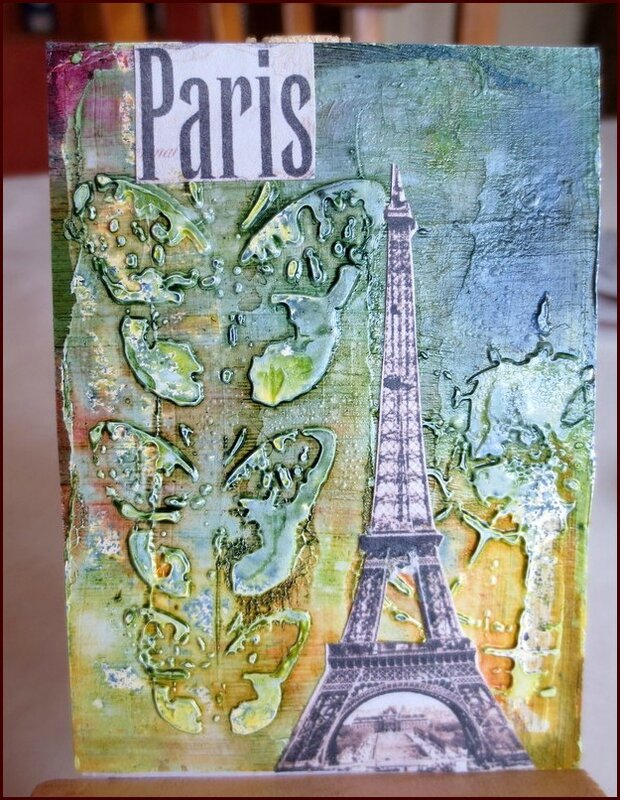 Voilà, ce sera tout pour aujourd'hui... J'adore ces échanges !!! N'hésitez pas à nous rejoindre sur ce forum, il y règne une ambiance très cool et chaleureuse, on rigole souvent et ça fait du bien !!
Bon week-end de la Pentecôte, plein de bises à vous tous et toutes,
Wishing you a wonderful week-end ahead, thanks for visiting.
Coco xxx
Commentaires sur Un échange d'ATCs "Voyage" / ATCS for a swap on 'Travel'