24 juillet 2016
Re-coucou! Hi again!
Je vous avais bien dit que je revenais vite... Pour une fois c'est vrai!! :o)
Je partage une autre carte avec un petit robot super rigolo et vraiment mignon... Un autre cadeau de mon amie Nefertiti cette fois, il vient d'une planche de tampons JOFY de chez PaperArtsy sur lequel je louchais un peu LOL, et qu'elle m'a envoyée à l'occasion de mon anniversaire.
J'ai fait cette carte pour un petit garçon, le fils de mon amie anglaise Anne qui vit également en Bretagne, mais que je n'ai encore jamais rencontrée... Un jour j'espère.
Le fond est fait avec un mélange de poudres brushos et bistres.
I mixed-up a few brushos and bisters to create my background for this card, looking for replacing the new PA Infusions maybe.. :D
Starting with the brushos, and then when dry, adding a few drops of red and natural bisters before spraying. Well, I don't know if the test is successful, but I love the result. This fun Robot is so cute!! :-)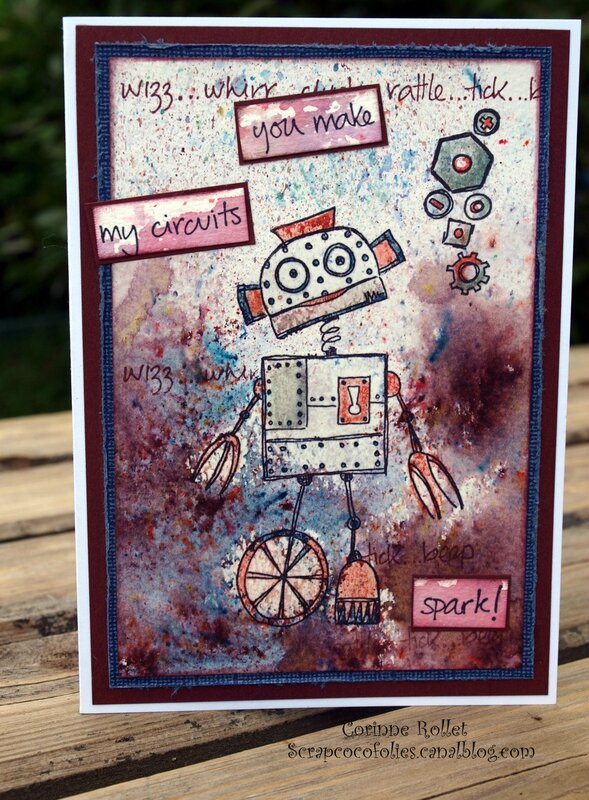 Voilà, j'espère que ça vous plaît !
Je vais continuer mes posts de rattrapage dans les jours à venir...
tout en aidant quand même un peu aussi mon DH à me faire ma future scraproom !!!!
Et aussi comme toujours, plein d'autres projets dans la tête et sur le gaz... :)
A très bientôt. Bises à tous.
Thanks for stopping by again, Hugs!
Coco xx
Commentaires sur IL N'Y A PAS DE PLUS GRANDE JOIE (2)...