14 juin 2017
Bonjour ! Hi Everyone!
Je viens de passer une superbe semaine avec mon amie Sylvie (Nefertiti), déjà finie hélas, Snif, que le temps passe vite...
Du scrap au programme bien sûr on s'est régalées, mais pas que, beaucoup de balades, visites (la région est magnifique !!!), papotages et repos étaient au rendez-vous. C'était plus que génial d'être ensemble.
Maintenant retour au travail, chaque bonne chose a une fin.
I'm just back from a wonderful week of holidays with my best crafty friend Sylvie (Nefertiti), we had a fabulous time together! Painting and stamping mainly of course, and it was such a joy to share our tips and techniques too; But I have not much time to blog about that, though I would love to... I'm so in late sharing my artwork! In particular, all the makes created using the new release of stamps by Crafty Individuals.
Today, I'm just showing you a card sent to a friend for her birthday, not done with any of the new stamps however... But I will try to be back before the end of the week with my makes with the fabulous new CI pink flamingos, I promise! :)
Comme je désespère de pouvoir mettre mon blog à jour avant l'été - j'ai tellement de choses à partager ! Et encore des ateliers à venir - je ne me mets pas la pression... Pour aujourd'hui, ce sera une simple carte que j'ai beaucoup aimé réaliser pour mon amie Elisa. Je n'ai que 6 mois de retard pour son anniversaire Lol. Je sais qu'elle comprends, et qu'elle m'a pardonné... :)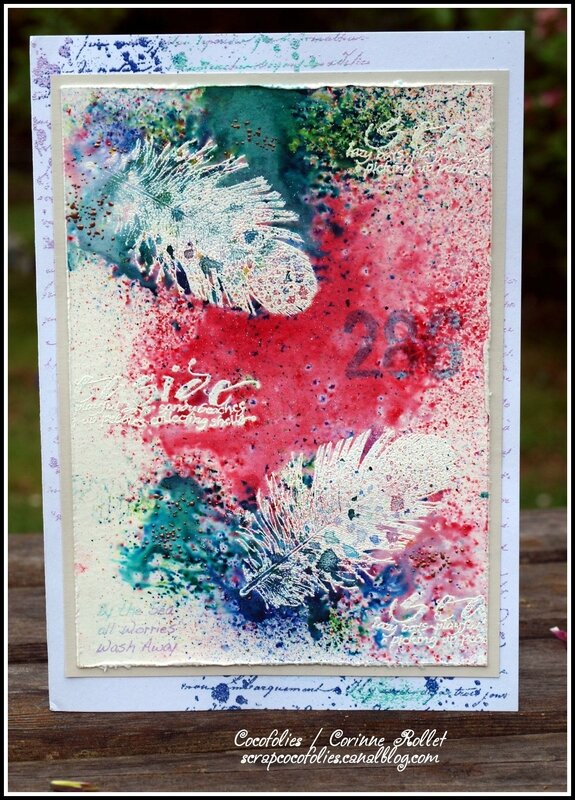 Mon fond est réalisé aux brushos, et mes plumes sont embossées à la poudre blanche pour les faire ressortir. J'ai aussi embossé à chaud en relief quelques grains de poudre cuivrée..
Sur mon fond de carte blanche, je me suis servie d'un autre tampon que j'aime toujours autant, le CI-436. Je l'ai embossé de différentes couleurs.
My background was made by playing with brushos, after I embossed in white the lovely feather and some text too from CI-397. I highlighted the edges and the feather tips with some more brushos, in deeper shades.
I also used the large script text stamp that I still love to decorate a bit my white card taken as support. I had fun to emboss it in different soft colours of Zinc EP.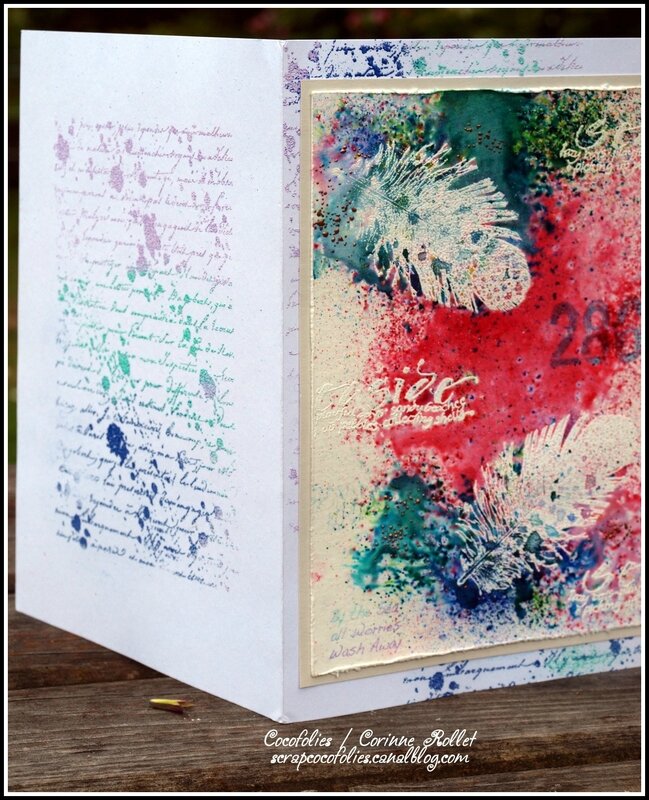 Tampons Crafty Individuals utilisés / CI stamps used
- CI-436 'Inky Script Background'
I'm entering this card in the Take It Make It June challenge: Anything Goes.


Passez une belle journée ensoleillée, bises à tous et toutes !!
Thanks much for looking, I wish you a very happy creative day!
Coco xx
Commentaires sur 'Call of the Sea' - une carte pour une amie (DT Crafty Individuals)