20 décembre 2013
Bonjour ! Morning!
J'espère que vous allez bien en cette fin de semaine, et qu'il ne vous reste pas trop de préparatifs avant Noël ! Avant de vous montrer mes réas du jour, je tiens encore à vous remercier pour vos derniers messages... en particulier ceux destinés à me remonter le moral (ou les bretelles, hum...!!), suite au manque de visites que l'on constate en ce moment sur nos blogs et sur ceux des boutiques où l'on est DT, ce qui fait toujours un pincement au coeur... mais je sais que c'est général, et qu'il est difficile parfois de faire autrement ! En plus je suis DT sur une boutique anglaise, ce qui ne facilite probablement pas les choses.
Tout va bien aujourd'hui (je suis en vacances en plus yéééé !!!...), et je vais pouvoir commencer à vous montrer quelques cartes de noël! Je commence avec 2 cartes et un tag faire pour la semaine Free for All sur le blog de Tando Creative, faits avec un ensemble super mignon de petits masks/pochoirs de chez Tando Creative contenant un joli renne de 3 tailles différentes... J'ai joué avec 2 des pochoirs, en utilisant un carré de mousse et de la peinture.
Hope you are going well this weekend, and that you have not too much preparation remaining before Christmas! Before showing you my makes today, I wish to thank you for your last messages, especially thoses aiming to bring up my spirit (or giving me a real dressing-down hem.. - hope it's the appropriate translation! - haha!!), following the lack of comments we observe at this time on our blogs and those of our shops as DT members.... But I know it's a bit normal at this period of the year, and sometimes very difficult to do more, right ! So it's allright now, thanks a lot... (moreover I'm on holidays, yeahhhh!!...).
Well on Tando's blog we have an Free for all week, and I have two cards and a tag today featuring the Triple Reindeer stencils. This set of reindeers is supplied as three separate elements including both a mask and a stencil, so it's really a great set that can be used in a whole host of ways! I played with two of my stencils here, using a foam pad and paints mainly.

Sur la première de mes cartes, j'ai peint en rose l'intérieur de mon pochoir renne et j'ai versé dessus directement des paillettes dorées, de manière non uniforme pour garder un de peu de cette couleur rose inhabituelle pour un renne, mais qu me plait bien! J'ai ajouté une pointe de Liquid Pearls couleur "Peacock" pour lui dessiner un oeil.
Et sinon sur cette carte et la suivante j'ai joué avec mes tampons Crafty Individuals, que j'ai combinés avec des tampons clear de marque Lorelai Designs, en utilisant quelques chutes de papiers bazzil. J'ai embossé en doré certains tampons.
On this first card, I put PA Fresco Finish Rose paint over my stencil and immediately poured a bit of Gold Glitter (like that you do not need extra glue), but only at some parts in order not to hide completely this unusual shade of colour chosen for my deer. Love this combo of turquoise and rose!... I also added a small dot of Liquid Pearls (Peacock) at the end to draw an eye.
For this card and the second one below, I played with lovely Crafty Individuals stamps combined to some French clear stamps from Lorelai Design (the card above), and replaced the pink colour by a red one. I also heat embossed some of them in Gold.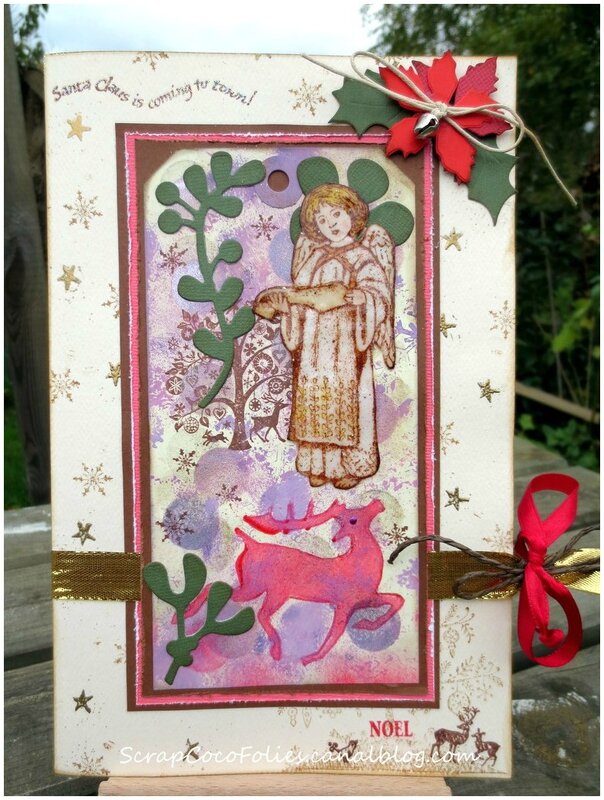 Pour finir, je vous montre le tag que j'ai fait rapidement avec quelques restes, selon la même technique pour mon rennes (avec de la peinture rouge translucide cette fois). J'ai aussi testé mon mask Joined Snowflakes pour faire mon fond, à partir d'un tag Manila écru standard.
And here's a very quick tag done with some leftovers using the same technique ! On this tag, I also used the mask Joined Snowflakes for the background using a simple Manila tag to start.
Love the accents of red paint stressed a bit more at some edges of my stencils using a small brush, giving depth and a subtle sheen to the two last reindeer...
Voilà, j'espère vous avoir un peu inspiré sur la manière d'utiliser ce genre de masks et pochoirs assez sympas sur des réas hivernales! Merci de votre visite, car j'imagine que vous êtes tous bien occupés maintenant... bonne chance pour vos préparatifs de dernière minute !! Pour ma part je pars dimanche matin pour une semaine fêter Noël en Ardêche, donc je fais une pause sur mon blog et les vôtres pendant cette période, je compte me reposer un peu !... Vous verrez cependant encore une jolie réa prochainement si vous vous connectez pendant les fêtes, car j'ai un post de programmé pour ma DT Tando le jour de Noël...
A ceux ou celles qui ne repasseront pas avant l'année prochaine, je souhaite de très bonnes fêtes !!! Aux autres, je vous dis à mercredi ! :)
Hope you like these simple samples of how you can exploit such combined Tando mask/stencil on your winter creations! Thanks so much for dropping in at this busy time... and good luck with all the final preparations, everybody! At my side I'm ready to leave home for a week to spend Christmas with my in-law family... I will fancy a short break on my blog and yours during that time and relax a bit!.. But if you remain home at your side and connect to the craftyblogland the day of Christmas, you will be able to see another pretty project as I have a planned post for Tando this special day...
To those of you that will not come on my blog before the next year, I wish you a very happy festive season !!! For the others, see you soon on Wednesday!
Matériel/Materials:
Pochoirs et Masks/Stencils: Tando Creative Triple Reindeer, Joined Snowflakes,
The clearing (Imagination Crafts)
Tampons/Stamps: Crafty Individuals CI 282, CI 396, CI 257, Lorelai Designs collection "Fleur de Givre"
Paillettes et Poudres à embosser/Glitter and Embossing powders: DecoArt Glamour Dust Gold, Glamou Dust Crystal,
Stickles Dry Fine Glitter Thistle, Or (Aladine)
Encres/Inks: Distress Walnut stain, Pine needles, Mustard Seed, Squeezed Lemonade, festive Berries + Archival Coffee

Peintures/Paints: Paper Artsy London Bus, Rose, Sherbet
Autres/Others: Versamark pad + Versamarker pen, Glue pad Rayher, Glitter 3-D liner, Ranger Liquid Pearls Peacock,
scraps of Bazzil paper, Manilla tag, CI cards, Martha Steward Leaf punch
J'en profite pour participer aux challenges suivants: / I wish to enter this to the following challenges:
FSC Challenge #62 - in the Holiday Spirit
SimonSaysStamps Monday Challenge - Stamp Out 2013!

Coco xxx
Commentaires sur Free for All Week on Tando's blog: Two reindeer cards and tag/ Deux cartes et un tag avec des rennes