22 juillet 2014
Bonjour à tous ! Hellooo everyone!
Je vous montre une bannière que je viens de terminer, j'espère que vous l'aimerez car elle m'a pris plusieurs jours de travail!!! Mais j'ai eu beaucoup de joie à la faire, et le résultat me plaît beaucoup, donc je ne regrette pas mes efforts...
J'ai choisi de mettre à l'honneur mes tampons et masks de chez Crafty Individuals, je les adore et c'est aussi un choix personnel pour remercier encore une fois Jean (Hardy) et Malcolm de leur confiance.
I show you a banner just finished, it should be my new blog's banner in the days to come. Hope you will like it as it took me several days of work to create it!!! But I really love the result, I had lots of fun doing it using my Crafty Individuals stamps and masks, they are so beautiful. It was also a personnal choice to thank Jean and Malcolm for their confidence again, and make honour to this great rubber stamps brand. I'm so proud to belong to their team.

Je vous ai de nouveau préparé un pas-à-pas en images.. J'espère que ça vous plaira, je ne détaille pas toutes les étapes, mais n'hésitez pas si vous avez des questions !
I made an heavy-photos step-by-step.. Hope you will like it, I don't provide detailed information at each step, but don't hesitate to ask me if you have any question!
Etape 1: Gesso comme base couvrante sur un morceau de carton rectagulaire assez épais, puis application de la pâte de texture Grunge Paste sur le mask CI Floral Frame.
Step 1: Thick greyboard was first gesso-ed, then Grunge Paste applied over the mask Floral Frame.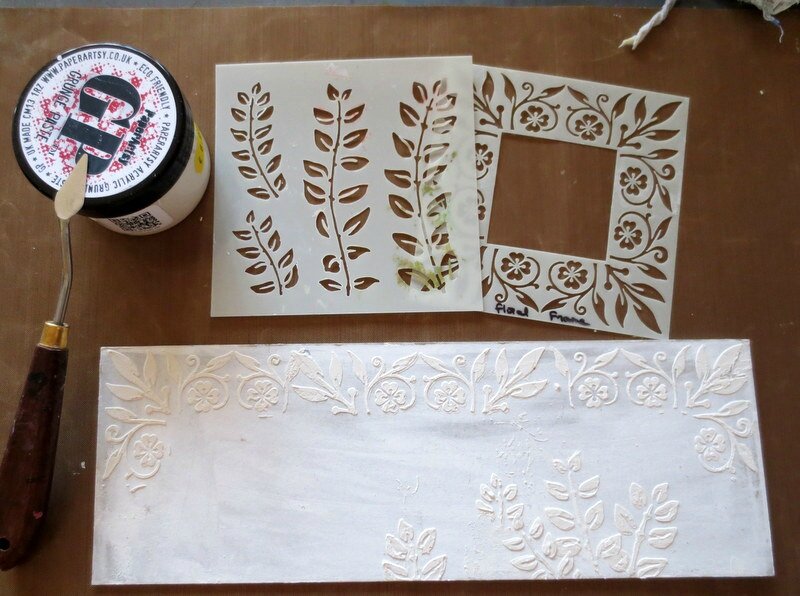 Etape 2: Appliquer aussi de la Grunge Paste sur une partie du mask CI Leafy Branches.
Step 2: Grunge Paste was also applied in the bottom to create beautiful leaves using the new mask Leafy Branches.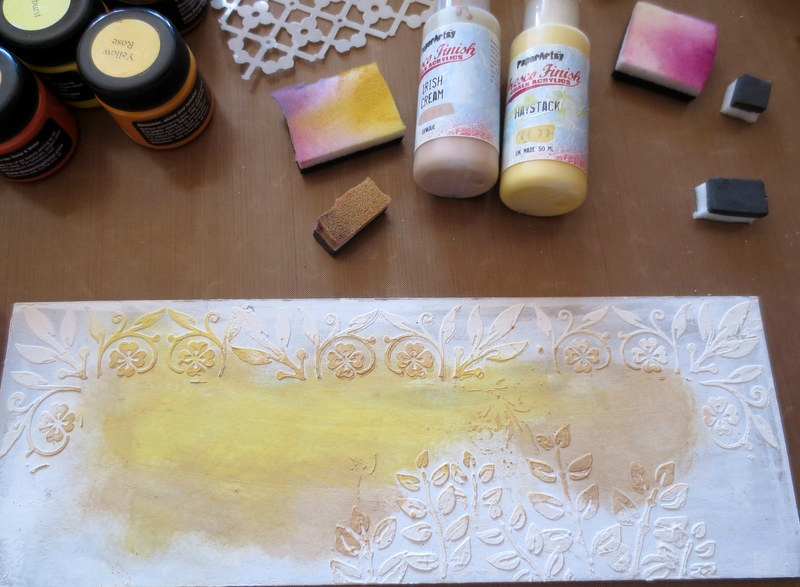 Etape 3: Commencer à appliquer de la couleur par petites touches, travailler le carton progressivement, en fondant les couleurs à certains endroits. J'ai utilisé des peintures plutôt chaudes dans l'ensemble (opaques ou translucides), en prenant dans mes PaperArtsy Chalk paints ou dans mes nouvelles Glaze silk paints. J'ai passé plusieurs couches de gel Medium à différents stades.
Step 3: Different layers of quite warm paints (opaque or translucent) were applied thanks to several sizes of brushes and foam pad, any excess was gently buffed away with a smooth cloth at each level. I used either PaperArtsy Fresco Chalk paints or my new Glaze Silk paints. Coat the board with several layers of Matte Medium gel at different stages.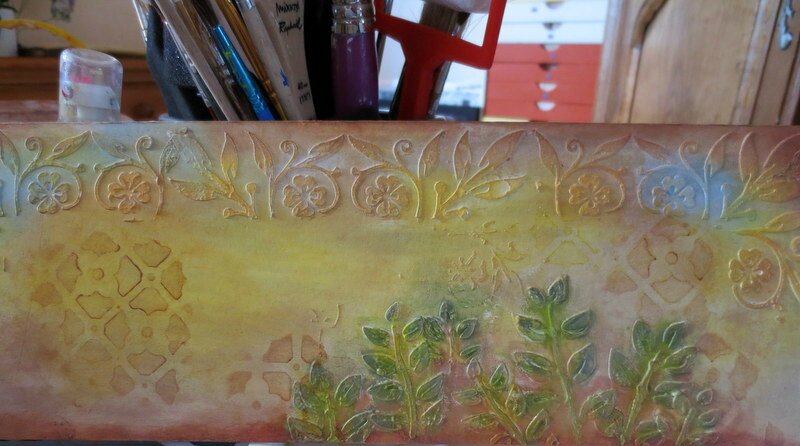 Etape 4: Pour enricher le fond, appliquer un peu de peinture marron sur le mask CI Floral Grid à trois endroits différents (ou plus!).

Step 4: Details were added in the background for more interest using other masks and more paints...
I stenciled brown paint over the lovely Floral Grid, this is one of my favourite masks ever!
Etape 5: Une fois le fond presque terminé, commencer à tamponner.. Utiliser un positionneur de tampons par précaution avant de tamponner en place !
Step 5: Time to start stamping... :) Better to use a stamp positioner at this stage if you have one to avoid the mistakes!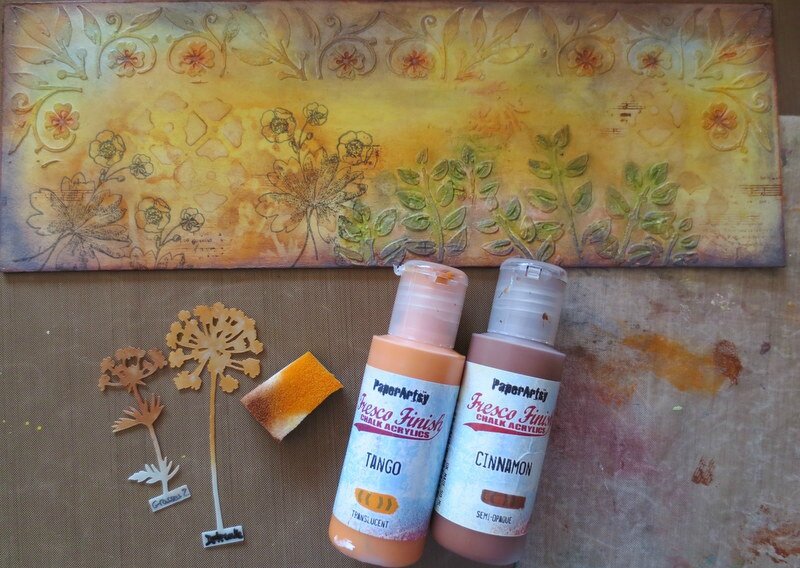 J'ai encore ajouté quelques détails sur mon fond, comme ces Delicate Grasses 2 (sur la gauche, l'effet est assez subtil volontairement).
Delicate Grasses 2 masks were also added on the left side in a subtle way for a background a bit more diversified...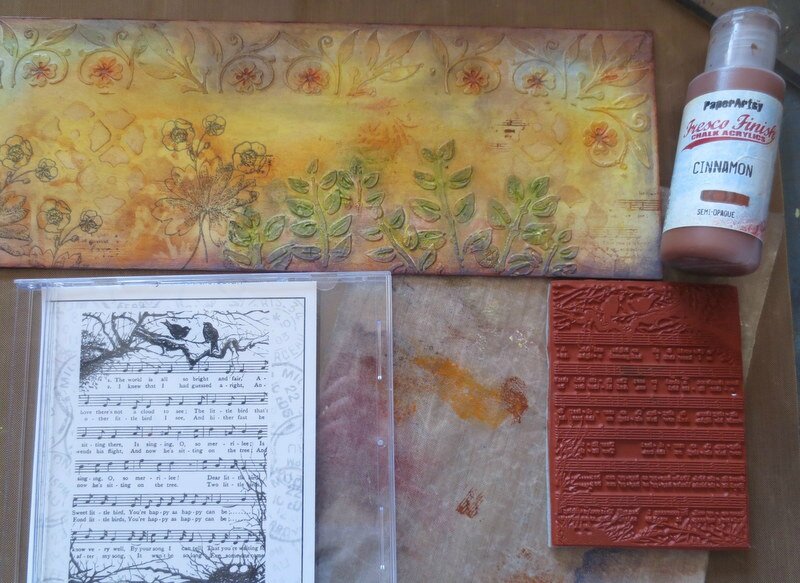 J'ai pris ce beau tampon musical CI-309. Appliquer un peu de peinture marron à un ou deux endroits à l'aide d'un carré de mousse, et tamponner ici et là.. Il faut laver rapidement son tampon ensuite quand on utilise de la peinture.
To add further interest, using the beautiful musical stamp CI-309 and a foam pad, apply a bit of brown paint at some area, and then press lightly with your hand here and there. Repeat if needed, and then wash quickly your stamp when finished.
Je voulais un décor qui fasse penser à un soir d'été. Pour renforcer cette impression, j'ai ajouté de la peinture gris foncé sur les bords et de la peinture brun-rouge (Cinnamon).
I wanted to create a nice summer evening scene... To do that, add more dark paint around the edges. I chose a dark grey shade from PEBEO, and PA Cinnamon paint.
Etape 6: Peindre au pinceau fin (en diluant la peinture avec un peu d'eau parfois) l'intérieur des fleurs texturées et tamponnées pour les faire ressortir. J'ai aussi mis une goutte de feutre doré (Krylon Gold) au centre.
Step 6: Time to colour all the flower hearts to make them pop... I also put a tip of Gold Krylon pen in the middle.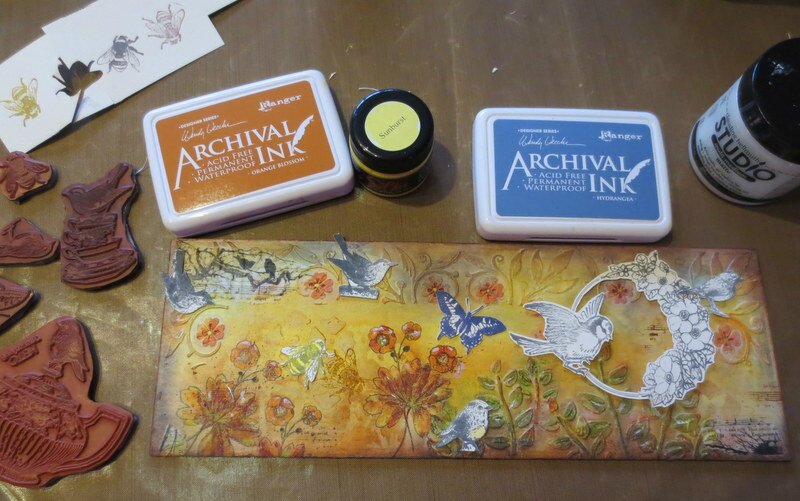 Etape 7: Tamponner séparément différents oiseaux, abeilles, etc. sur du papier de soie ou du beau papier blanc ou crème non texturé (j'ai pris le Silk paper de chez Crafty Individuals, il est parfait et on peu le coloriser facilement et aussi l'aquareller légèrement). Les peindre, les encrer, les détourer... et les positionner sur le décor pour voir le résultat, ou les intégrer avec du gel Multi-medium comme pour les bouts de papier de soie musicaux que j'ai placés aux angles. J'ai utilisé les tampons CI-410, CI-391, et 3 petits oiseaux également de chez Crafty Individuals, qui m'ont été offerts avec des commandes ou mon magazine Craft Stamper (l'oiseau voletant..).
Step 7: Stamp different birds, bees, etc. on tissue paper or white or cream smooth stamping paper, I took my CI's beautiful silk paper as it's really perfect for stamping, colouring, also watercolouring slightly as I love to do. Ink and/or paint all the elements separately (I also used my Inktense pencils in some cases) and fussy cut them (or not, it's a matter of taste!), glue them using Glossy Accents or integrate them with Multi-medium as for the musical parts.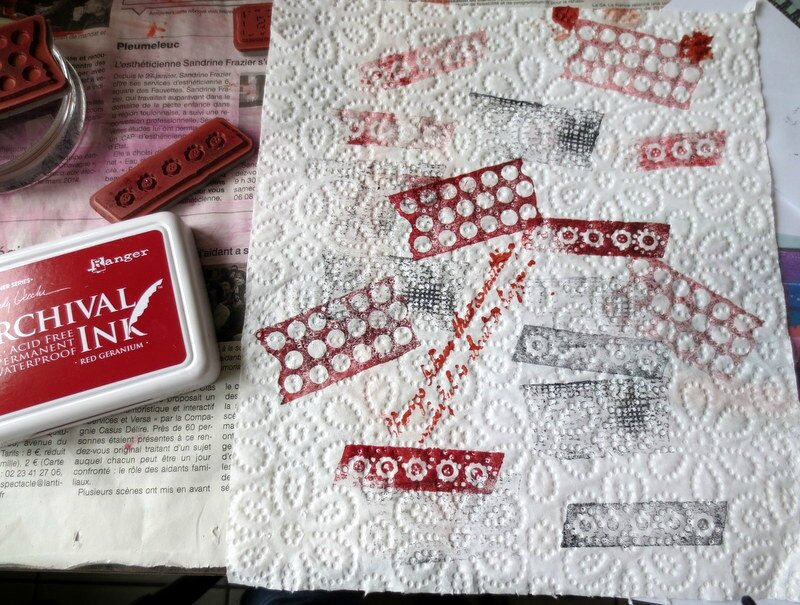 Step 8: Création de fleurs... à base d'une feuille de saupalin! Je ferai peut-être un tuto détaillé séparément plus tard si ça intéresse quelques personnes, vous me direz?
Step 8: Hand-made flowers creation playtime... starting from a sheet of kitchen roll! Well, I made clear photos of the whole process, I could do later a detailed tutorial if someone is interested. Please ask me if so, you can leave me a comment here.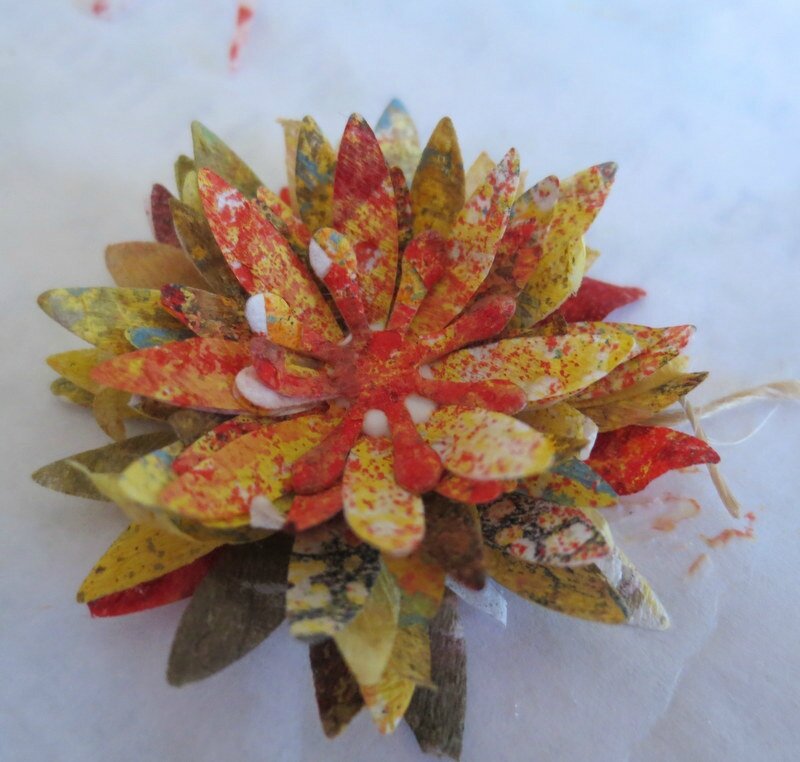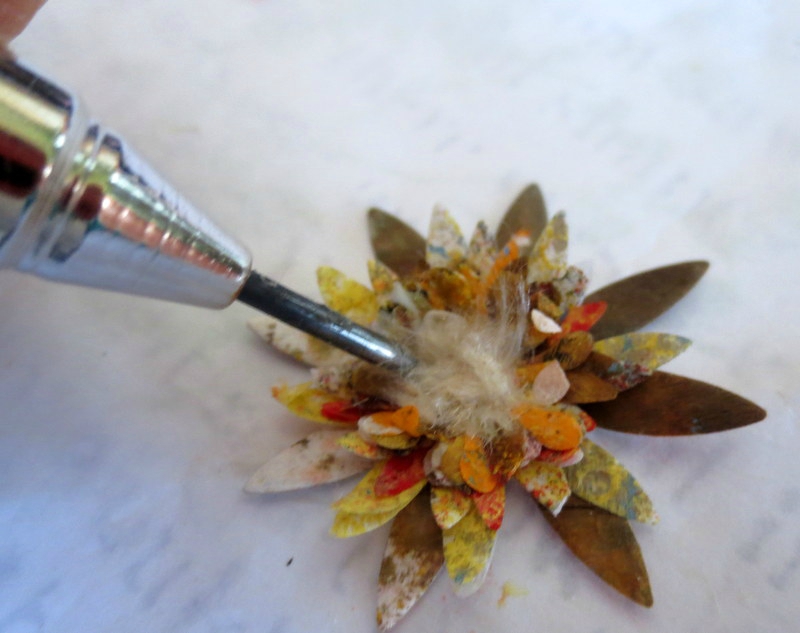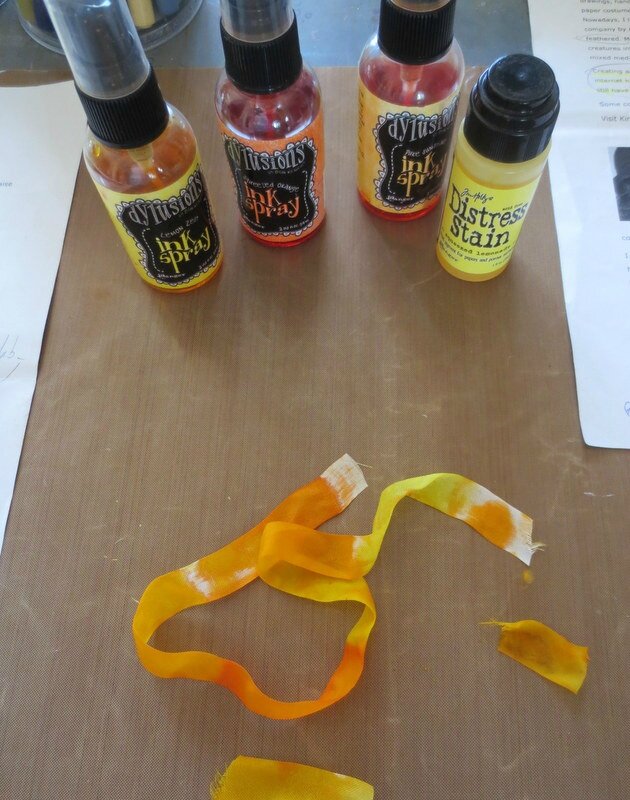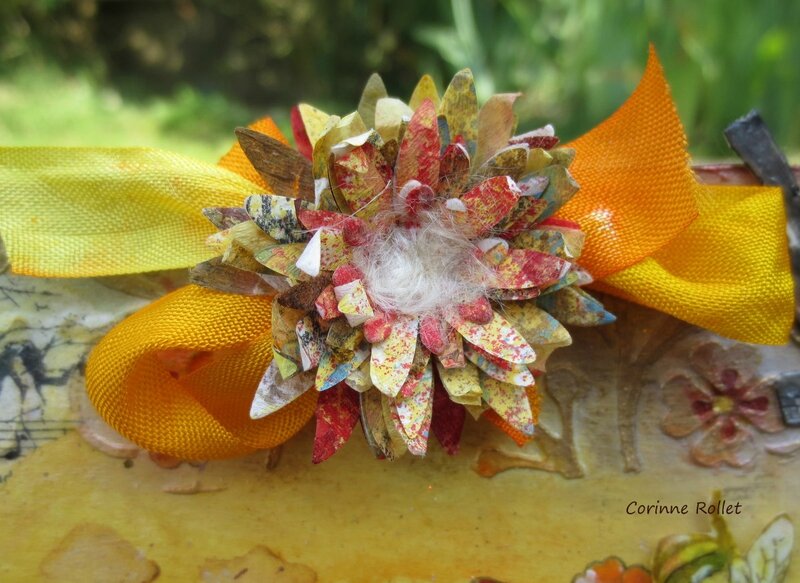 Je me suis moi-même inspirée des magnifiques fleurs de Joanna qui fait des cartes absolument délicieuses.. Elle fait aussi partie de l'équipe Crafty Individuals, c'est elle qui m'a donné envie d'acheter ce die Lalaland 'Water Lily', je ne le regrette pas il est super joli!!
I took my inspiration from my teammie Joanna herself. Her hand-made flowers are delightfull.. I bought this lovely Lalaland die called 'Water Lily' after seeing one of her fabulous cards! I really don't regret it!!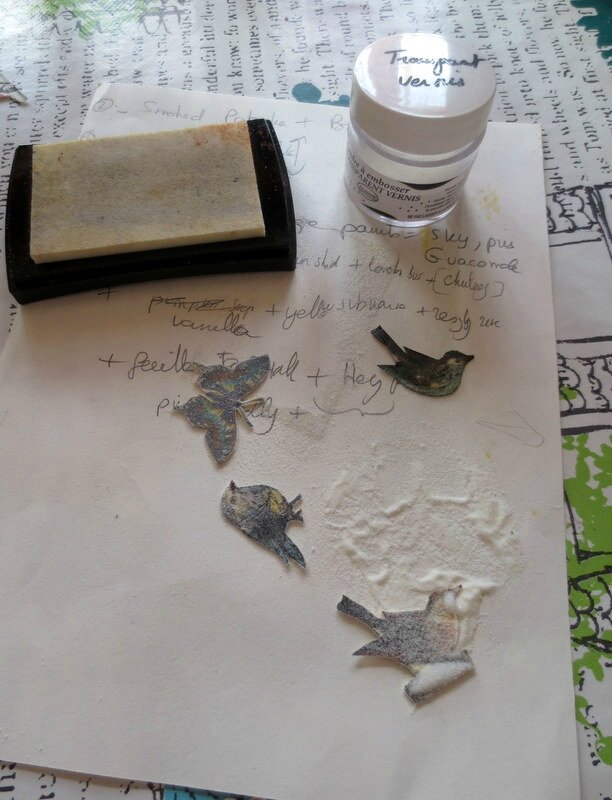 Etape 8: Les finitions et les détails... Chaque petit tampon détouré a été embossé à la poudre transparente vernis, avant d'être collé à plat ou en 3D pour certains. Les zones en relief et les bords de ma bannière ont été passés à la Treasure Gold (à appliquer au pinceau brosse fin ou directement au doigt). J'ai aussi rajouté (mais je n'ai pas fait de photo) dans le bas de mon décor un peu de paillettes Stampendous frantage (Rose fragments and Marine Blue fragments, et gold halo mix glitter) et de fragments de feuille d'or, au coeur de mes fleurs dans mon rond détouré notamment. J'ai déposé aussi une petite goutte de peinture dimensionnelle en noir sur l'oeil de mes petits oiseaux. Tout brille.. C'est beau je trouve, j'espère que vous aimerez aussi ! Mais c'est vraiment dur à photographier, mes images ne sont pas très bonnes, j'en referai peut-être. J'ai fixé le tout avec un vernis spray brillant.
Step 8: Finishing touch and more details... each individual stamp was heat embossed with glossy clear powder, and glued either flat on in 3D on the board. Treasure Golds and Metallic Gilding wax were slightly put on the textured leaves and other parts, like the edges, using a small brush or my finger. I also added some frantage and gold leaves fragments in the bottom of the scene, or in the heart of the rounded flowers, and a tiny drop of black Enamel accents within the eyes of my birds. That's a shining and beautiful decor I think... but it's very difficult to render the colours, the shine and the atmosphere in images! Hope you like anyway. At the end I sealed the whole with a good glossy spray.

Quelques détails... / Some details...
J'en profite pour faire participer ma bannière aux challenges suivants:
I'd like to enter my banner also in the following challenges:
- Our Creative Corner: The theme this month is Home-made flowers and hand-dyed Ribbon. I had lots of fun with my flowers inspired by this challenge proposed by Astrid...
- Simon Says Stamps blog Monday Challenge: A mid-Summer's challenge.
- FSC challenges: Dreaming of Summer. This theme was chosen by Avril, and I think my banner suits it to perfection, it really represents my dream of summer!
Et pour info, j'ai eu la joie de voir deux de mes dernières cartes faites avec mes tampons Crafty Individuals à l'honneur, sur l'Antrescrap ici (j'ai été élue 'coup de coeur' par Laé), et sur le blog FSC des 'Fashion Stampinettes' où je fais partie du Top 3 pour le challenge #76 sur le thème des fleurs, c'est par là si vous voulez la revoir.
And for information, I was very happy and proud to see two of my last cards in Crafty Individuals honoured! The first one on the French blog L'Antrescrap here, and the second one being on the Top 3 catwalk of FSC #76: Flowers.
Matériel/Materials:

Un rectangle de carton gris solide/Sturdy greyboard de 29.5 x 10.5 cm (Tando Creative)
Pochoirs / Craft Masks: Floral Frame, Delicate Grasses 2, Leafy Branches, Floral Grid
Tampons: Crafty Individuals CI-411, CI-410, CI-309, CI-391, flying bird giveaway from Craft Stamper issue (designed by Crafty Individuals) and two other small birds (all CI freebies with some orders)
Unity stamps 'Little bit Washi',
Crafty Individuals glossy silk paper, Tissue paper

PA Fresco Finish Chalk paints, PEPEO paints, Glaze Silk paints
Archival inks (Watering Can, Orange Blossom, Potting Spoil, ...), Stazon black and yellow inks
Distress inks, Derwent Inktense pencils, Krylon marker in Gold
Treasure Golds, Metallic Gilding wax, Ultra fine Glitter Yellow, Gold Leaf fragments,
Stampendous frantage Rose fragments and Marine Blue fragments, gold halo mix glitter,
Saupalin / Kitchen Roll, Glossy Accents, Gilding glue, Glue pad
Versamark, poudre à embosser transparente Vernis (Aladine) / Clear embossing powder by Aladine
ruban froissé Tim Holtz / Crinkle Ribbon, Ficelle Intermas Gardening, black Enamel Accents
Vernis brillant en spray Sennelier, Gloss Varnish Spray by Sennelier, Matte Multi-medium Studio gel
Vous aimez??... Je pense la mettre en tête de mon blog, si j'arrive à la dimensionner correctement. Merci pour votre visite et vos commentaires toujours si agréables à lire, je vous en remercie infiniment. Bonne semaine et/ou bonnes vacances si vous avez la chance d'y être !
Hope you like this style and my banner, it should be my new blog's banner if I'll succeed to resize it as needed! Thanks for stopping by today, have a great week and/or holidays!
Coco xoxo
Commentaires sur 'Summer Evening'... A new blog banner and its tutorial / 'Soir d'été'.. Une nouvelle bannière pour mon blog et son tutorial