14 février 2016
Re-coucou, Hi again!
Je reviens avec une seconde carte que j'aime également beaucoup, faite avec le même fond que celle de mon précédent post. J'espère que vous l'aimerez autant que la précédente !
The February theme for the Craft Stamper Magazine "Take It, Make It" challenge is TEXT ME! One can submit up to three pieces of art for each monthly challenge, so this is the second of three posts from me today.
You can find the details of this challenge here.
For this second Valentine card, I started from a piece of the same masterboard as previous, you can read the details in my first post today if you desire.
I then had fun with two stamps I really love and use very often: CI-439 (the couple and their dog, which I separated) and CI-258 (the text part on the background). The characters have been cut out from white silk paper here, slightly watercoloured using DI, and then embossed two times in Clear EP. Extra dimension was also added to adhere the couple and the dog at the end.
Pour celle-ci, j'ai utilisé deux tampons que j'adore et qui reviennent souvent sur mes réas DT: le tampon CI-439 (le couple et son petit chien, que j'ai séparés) et CI-258 pour le texte.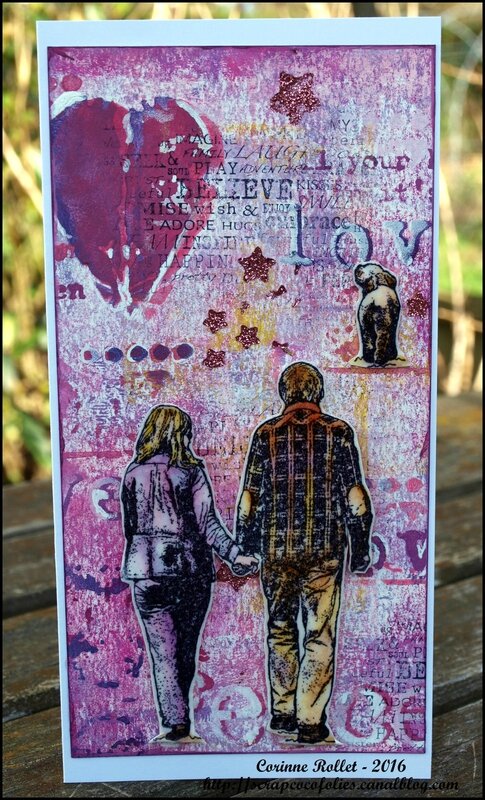 Matériel utilisé / I used:
Crafty Individuals CI-258, CI-438, CI-439
Crafty Individuals White Silk card
papier aquarelle à grain fin / smooth watercolour paper
The Crafter's workshop 'Mini Love and Peace' and My Favorite Stamps 'diamonds' stencils
Archival ink Jet Black
PaperArtsy Fresco Finish Chalk Paints
Versamark, poudre à embosser transparente (Clear EP)
Sharpie white
Imaginations Craft Sparkle Medium 'Antique Pink'
Merci d'avoir pris le temps de regarder cette seconde carte... Je vous souhaite une excellente soirée. Bises à tous!
I am happy that you have stopped by to check out my second card for this project. I hope you can take a moment to leave a comment. I appreciate each and every one! Hugs
Coco xx
Commentaires sur Une seconde carte de St Valentin / Another Valentine card for DT Crafty Individuals + TIMI Challenge (2)