01 octobre 2017
Bonjour à tous !! Hello Everyone!!
I'm very excited to be here with all of you today: I'm Guest Designing for Rubber Dance today, following my win to their challenge with a card using their Curious Cat. You can see this card again here, plus another sample using the same cat here.
I was thrilled of course to accept the proposal from Bibi Lindhal to guest design in october, to thank her and the team for picking my card as a winner, and as I love the Rubber Dance stamps!
Je suis très honorée et heureuse d'être sur le blog de Rubber Dance, où je suis invitée créative ce mois-ci. J'y dévoile aujourd'hui un aperçu ma création pour le challenge du mois d'octobre, qui sera valable aussi pour le challenge thématique de mi-octobre, vous verrez !
J'avais gagné le challenge de juillet avec cette carte, ce qui m'a valu cet honneur.
Rubber Dance Stamp is a home based, one women show stamp company located on the south-east coast of Norway, and Bibi Lindahl is the owner. The stamps are red rubber, in various styles, and you can buy them mounted or unmounted. They are wonderful for mixed media, but also for scrapbooking/cardmaking of course as you will find several single stamps beautiful in their own, also perfect for coloring if you like.
Les tampons Rubber Dance sont vraiment très beaux et originaux, parfaits pour le mixed-media (mais pas seulement, ils conviennent aussi au scrap et à tous les styles). Ils proviennent de la boutique de Bibi Lindahl qui a développé sa petite entreprise en Norvège, et fait elle aussi partie de son équipe DT qui fait des merveilles... Ils sont en caoutchouc rouge de qualité, vendus montés ou non.
Just before my late summer holidays, I was enough lucky to receive several gorgeous new stamps from Bibi!! I had no idea at all about what to do with them at this time, so just decided to take them all with me like precious treasures, also my Kuretake watercolours as I really wanted to practive a bit with them during my hols. And that's all!!!
To keep it the surprise a bit longer, I don't share my piece as a whole (this is a kind of minibook!...). You will discover it and get the tutorial on Rubber Dance Stamps blog at mid-october, should be on the 13th to be precise! I hope to see you there already today, and at this date too. Please leave a comment and let me know what you think of it... I also hope you play along with the Rubber Dance Stamps blog challenge this month, either to enter the new colour combo challenge, or the theme challenge at mid-october... possibly both! :-).
J'ai emporté avec moi en vacances, comme de précieux trésors, les beaux tampons reçus juste avant mon départ - dont plusieurs nouveautés - et mes aquarelles Gambaï Kuretake sans trop savoir au juste ce que j'allais faire avec !!
Pour faire durer un peu le plaisir, je ne vous détaille pas ma création... vous la découvrirez dans son intégralité sur le blog Rubber Dance - ainsi que sur le mien si j'y suis autorisée - courant octobre, le 13 pour être précise.
Pour aujourd'hui, je vous offre juste un petit aperçu... l'occasion pour moi d'annoncer aussi le challenge d'octobre :
So far, you will see just a sneak peek of my make... I'm also playing along with Rubber Dance Stamps blog challenge today.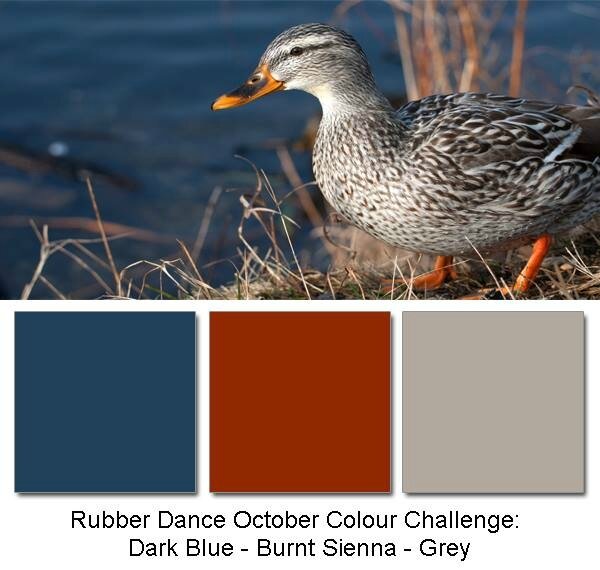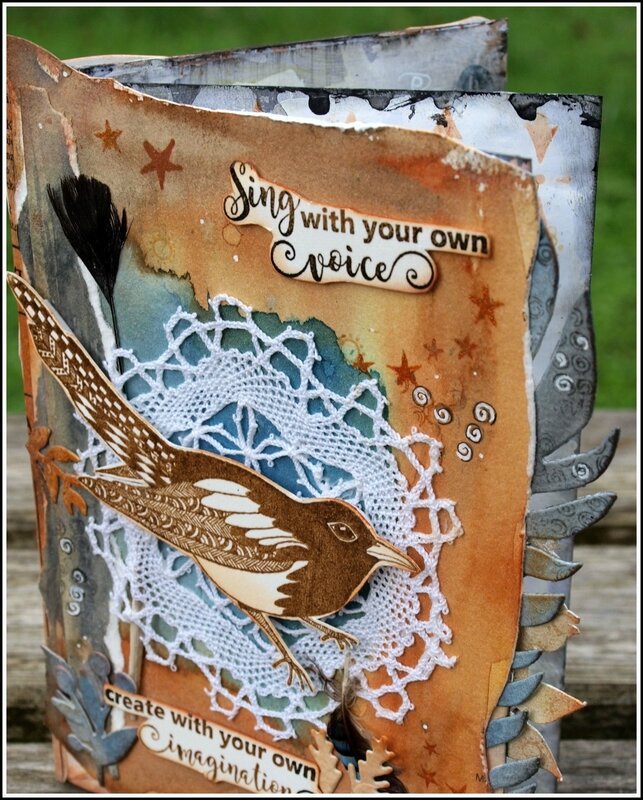 Hope you love this sneak peek featuring using Merry Magpie! :) Don't forget to head on over to Rubber Dance Stamps blog today, as you should see also many other beautiful illustrations by the team!
And to follow up with good news (coming often in pairs!...) I'm currently in full crafting mode for CARABELLE with a new fantastic release of products, I will be demoing for them on their stand at Version Scrap Rennes very soon. Happy bunny dance here!!! :D
As always, I will catch-up with you all my friends and followers, as much as I can later.
Thanks for stopping by!
xxx
Voilà, j'espère que ça vous plaît et vous donne envie de voir la suite... Rendez-vous le 13, ou avant si je peux pour d'autres choses! D'ici là, n'hésitez pas à découvrir ces tampons et les illustrations de l'équipe pour ce challenge d'octobre sur le blog des tampons Rubber Dance. Vous ne serez pas déçu(e)s !

et un très GRAND merci pour tous vos messages sur mon post précédent auxquels je n'ai même pas eu le temps de finir de répondre!!! Je suis en pleine activité créative pour CARABELLE à chaque instant disponible, je vous montrerai tout prochainement bien sûr !! Donc bien peu de temps pour le net... :) Bises à tous, et j'espère vous voir sur le salon celles qui le peuvent !
Coco
Commentaires sur Guest Designer for RubberDance / Invitée créative pour la marque de tampons RubberDance