10 juillet 2013
Bonjour à tous et toutes !!
Chaque mois Tando Creative organise un challenge auquel vous pouvez participer si vous avez un blog ou une page facebook, même si vous ne parlez pas anglais. C'est vraiment très simple d'y entrer, et il n'y a aucune contrainte sur les produits, pas d'obligation à utiliser des chipboards ou masks de chez Tando Creative... Simplement, si vous utilisez au moins un produit Tando, vous avez une chance de plus de gagner au tirage au sort à la fin du mois un lot de produits ! C'est tout. Je serais contente de vous y voir de temps à autre sachez-le... :)
Ce mois-ci, le challenge consiste à s'inspirer de son Artiste Favori...... Moi il y en a plusieurs que j'adore, donc c'était facile, mais en même temps un terrible challenge !!! J'ai choisi l'artiste Linda Brown que j'ai vu à l'action à Version Scrap avec Leandra (sur le stand de PaperArtsy) et qui m'a fait une très forte impression, tant par ses fabuleuses créations que par sa gentillisse. Du coup j'avais craqué sur ses tampons, de grandes fleurs magnifiques dont je raffole !! Elle fait des réas sublimes avec, n'hesitez pas à aller la découvrir sur son blog...
Je me suis aussi abonnée à sa newsletter, et c'est ce tuto qui m'a donné envie d'acheter le mask floral Mini Cornflower que vous allez voir sur mes deux réas (une petite toile et une plus grande que j'ai offerte à mon amie Nefertiti), et dont je me suis également inspirée.
Hi everybody !! Each month Tando Creative organises a challenge to which you can take part if you have a blog or a Facebook page, it's very easy to participate, and the great thing with Tando's challenges is that you don't have to use Tando Creative goodies to enter... but if you do, you get an extra chance to win some lovely set of products ! That's all ! I would be really happy to see your participations from time to time... :)
This month is about inspiration by your Favorite Artist..... As I love a lot of Artists, it was quite easy and very inspirational for me !! But meanwhile very hard to choose only one hmm... thus a big challenging issue also haha !!! I chose Linda Brown. I met her in April at Version Scrap on the Paper Artsy's stand, it was wonderful to watch her and Leandra demo, and she's also very nice. I bought her fabulous large flowers stamps, I love them and I truly LOVE what she does herself with them !!!

I also subscribed to her newsletter, and that's a stunning and fab tute that made me also buy asap the "Mini Cornflower" mask you are going to see on my two canvas (a small and a larger one that I have offered to my friend Sylvie) - I took also my inspiration from this tute.
J'ai utlisé les deux labels du set Block Flourish 1, et deux jolis papillons du Butterfly Grab Bag de chez Tando Creative.
I used the two labels of Block Flourish 1 and two lovely butterflies from the Tando's Butterfly Grap Bag. Aren't they fab products ??
Et voici mes canvas en détail, vous pourrez aussi voir en images quelques étapes intermédiaires de réalisation:
And here are my canvas in details, you will also see some intermediate stages of creation... The largest one was offered to a very good friend of mine: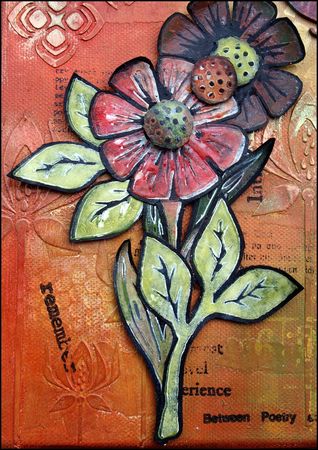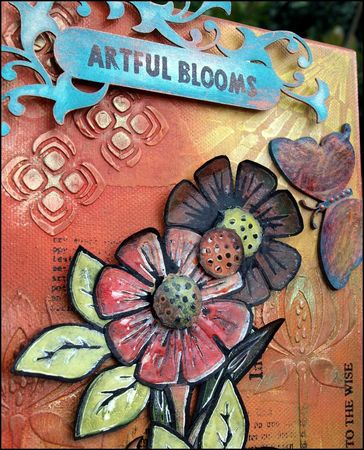 The smaller one - I kept it for myself ! :)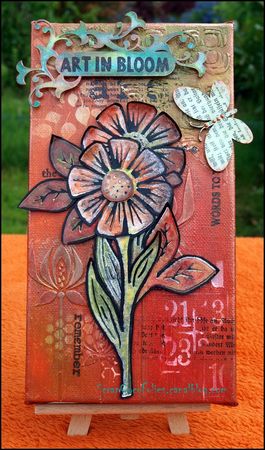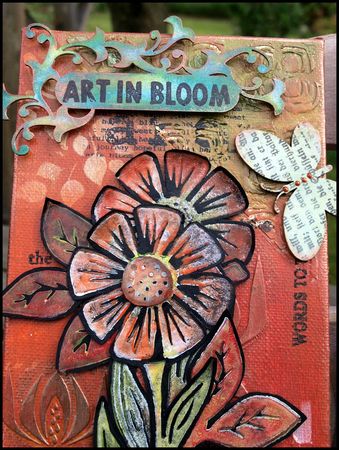 Les photos du dessous vous montrent comment j'ai créé mes fleurs ! J'avais retenu de Lin Brown elle-même que ses fleurs rendaient vraiment bien tamponnées avec de la peinture sur du papier noir. J'ai donc suivi ses conseils à la lettre, avec une couche préalable de peinture blanche appliquée au cut'n dry.
And here is the intermediate process of building. You can see below how I made my flowers: I used black thick (not textured) paper and stamped them first in white using my Snowflake paint and a piece of cut'n dry; Once dry, I stamped them again using different colours of Fresco paints quickly applied (as this paint dries very rapidly), as demoed by Lin herself. Be careful to not move the stamps in two parts (Flower's heart and leave) between the two operations !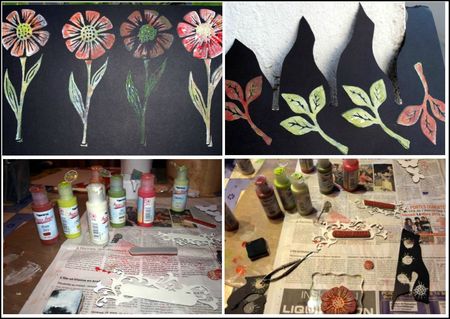 Travailler mes embellissements de chez Tando a été la dernière étape... Pour mes ornements, j'ai utilisé 2 ou 3 couleurs de peinture (2 pour le grand, 3 pour le petit) and quelques touches de patine (Treasure Gold et Copper) sur tous les bords extérieurs et intérieurs. J'ai tamponné ensuite le mot en noir bien au milieu.
Final step was the colorisation of my beautiful flourishes and butterflies I wanted as embellishments. For the flourishes, I used two or three colours of paints (2 only for the largest and 3 for the smallest) and a bit of Treasure Gold or Copper on the inner and outer edges. I stamped the word in black well in the middle only at the end.
Pour les papillons, je les ai recouvert d'abord de Gesso, mais j'ai lu depuis sur le blog de Tando que c'était parfaitement inutile, car justement ces mini chipboards blancs sont faits exprès pour éviter cette étape !!
For the butterflies, I first covered them with a very light coat of Gesso. However I read since then on Tando's blog that this step is useless, since these minis have already a perfect white coat on them to avoid that ! The smallest one is made mainly using pale yellow ink (Distress Squeezed Lemonade) and a script stamp. I first covered it with two or three layers of ink ( I noted that watercolour ink tends to fade a bit otherwise after a few minutes, be careful). After that I stamped text in Versamark, and applied then two colours of perfect pearls (Cosmic Shimmer "Emerald Ultra" and "Mint") using a thin brush - Don't forget to spray water in the air over the butterfly to fix the mica pigments ! - J The edges are highlighted using Distress Ripe Persimon. I finally stamped again the same text using Black Archival ink, and for the final touch added a few points of Viva Perlen Pen at center of my butterfly.
For the biggest one, I played differently: first I put down on the body a few drops of Cosmic Shimmer inks (Summer blue, Red Pepper, Copper). Then using a flat paintbrush I added large coats of paints of blue, red and orange in every direction. I used Fresco Finish paints South Pacific, London bus, and Smoked Paprika, but you can use any of your usual acrylic paints... I let some white spaces between the coats for the highlight. I went on until I was totally satisfied with the result, putting additional touches of paints lightly here and there. The black lines within body and wings were drawn by stamping the circle flower from ELB03 plate using my Brown and Pink Stazon inks. To finish, I painted the edges in South Pacific and sealed both with Satin Glaze.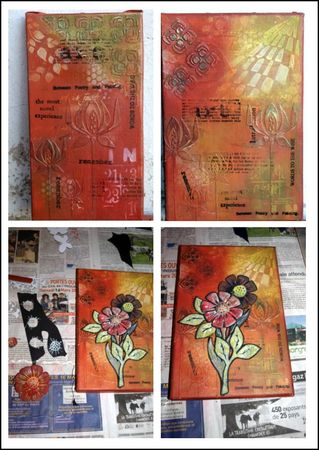 Vous pouvez voir mes deux fonds avant collage des fleurs et de mes embellissements Tando. Sur le plus large, j'avais d'abord collé des bouts de feuille de livre déchirée et de restes de papier scrap... Mais j'ai ajouté tellement de couches de peinture par dessus qu'il a presque disparu ! (quelle tête de linotte je fais, alors!) [:D] On peut juste le deviner par endroits si mes souvenirs sont bons...
You can see my two backgrounds before gluing my flowers and my Tando elements. One the largest one, I also glued initially before covering it with Gesso some scraps of old paper to try to add even more interest. But I put so many layers of paints that it at the end it has almost disapeared oooh ! [:D] We can just guess some parts of them...
Matériel / Materials:
Tando Chipboards: Butterfly Grab Bag, Block Flourish 1,
Masks: Crafter's Workshop Mini Cornflowers, Dylusions Leaves,
Stamps: Eclectica ELBO3 ELBO1 by Lin Brown and ESN01,
Dimensional Pearls (Viva Pelen Pen, Adirondack Red Pepper, Cosmic Shimmer "Summer Blue"),
Fresco Finish Paints (Autumn Fire, London Bus, South Pacific, Smoked Paprika, Hey Pesto, Honey Dew,
Limelight, Cinnamon, Zesty Zinc, Snowflake, Guacamole) + White Gesso,
Grunge Paste,
Versamark, Black Archival,
Distress inks (Squeezed Lemonade, Ripe Persimon, Black Soot),
Treasure Gold Ruby and Emerald, Treasure Copper,
Perfect Pearls Mint + Cosmic Shimmer Tropic Yellow and Emerald Ultra,
thick black paper (Canson),
Babywipes, 3D foams, Glossy Accents, brushes,
heat gun, water spray, Craft Mat...


J'en profite pour vous remercier encore une fois de tous vos messages précédents, je suis toujours aussi ravie et étonnée parfois de découvrir autant de messages amicaux et élogieux parfois qui font super plaisir :) J'en profite aussi pour souhaiter de bonnes vacances à celles qui les commencent ! Bonne journée à toutes. bisesssssss
Thank you for all your previous visits and comments if you had time to leave one, they are very precious for me and I love reading you !! :) Hope you like my inspirational work with Lin Today. And have a good summer vacation for those who will be on holidays this month ! Happy day everone. HUGSSSSSS
Coco(nut)
Commentaires sur Two canvas inspired by Lin Brown for Tando Challenge - July !